DIY Re-usable Catheter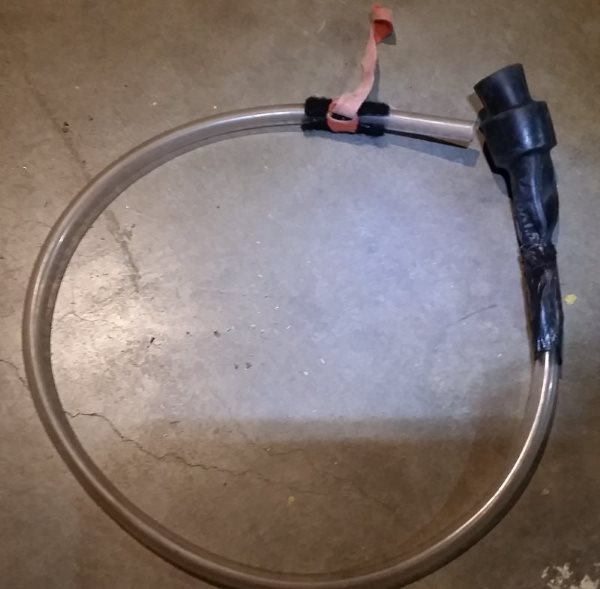 Why!?
I'm cheap, I'd rather save up for a new wing or instrument then pay for a single use product that goes in the garbage afterwards. Since it is reusable I never have to make a decision of whether to use it or not (i.e. waste money).
Existing models leave something to be desired, commonly suffer from breakage, kinking and leakage
I still remember the first time I was flying XC and had to piss like a race horse. After some contortion I managed to get a good 50% overboard only to find myself low after not paying attention to my flying and landing out a few minutes later. I vowed to always fly with a catheter again on XC flights.
Flying with a catheter allows you the freedom to drink freely in flight and not suffer from dehydration. This can help a lot with dry mouth if you fly with your trap open like me or just get cotton mouth from some scary thermals (also like me). As well, being hydrated is the number one way to combat hypoxia which helps me avoid having to fly with oxygen on higher flights.
How Does it Work
A condom catheter rolls on just like a regular condom does. The difference is that a condom catheter goes on a flacid penis, so all measurements should be done with that in mind.
During flight you can sit up in the harness and pee normally. If you are in a pod just kick a leg overboard.
Afterwards, gently peel back the adhesive material from the skin. Afterwards, unroll so the glue is not facing out and doesn't pick up dirt and debris. Give it a shake, wash or rinse out and it's ready to go for next time.
Supplies
Uro-Bond III - $35 (don't get Uro-Bond IV, it's too runny)
Old bike tire, recommended size is ?x? but it all depends on your own measurements - $5
Clear 3/8" PVC tubing - 2 yards @ $1/yard
PVC Braided 2" Tubing - 1 yard @ about $2/yard
Zip ties - $2
Electrician's tape - $2
Velcro Tie - $5
Total Cost = ~$45, less if you have some of the supplies laying around.
Estimated Yearly Cost = $10/year in Uro-Bond
Construction
Cut off a 1" length from the large gauge braided tubing.
Now you'll notice in the tubing there is an inner tube and an outer tube. You need to remove the inner tube. This will create enough room to put over your penis.
Take your bike tire and cut a 6-8" strip. You want enough to go to the base of your penis or close to it and still have about 2-3" after the tip.
Take the strip of inner tube you just cut and roll it over top of the large gauge PVC tubing from the first step. The PVC tube acts as a way to roll up the inner tube after each use so you can slide it over your penis and then unroll it to create a seal.
With the smaller PVC tube measure a length from your crotch to the floor. You want it long enough to stick out your pant leg but not so long that you are stepping on it. Keep in mind that when you route it through your pants it won't be a straight line so will need a bit of extra length. I like using the PVC tubing over surgical tubing because it will kink and knot up much less due to the strength of the material.
Now attach your long PVC tube to the end of the inner tube. 2-3 zip ties tightened over the inner tube as tight as you can get will do the trick. Make sure to cut off the tails and get them as smooth as possible, those cut ends can be quite sharp otherwise. Use some electricians tape to seal it all up nicely and cover up the zip ties so it is smooth on the outside. These two things are all that is making sure the tip is water tight. An extra step may be to add some type of pvc or rubber glue to REALLY make sure it's sealed.
The last step is to add a bit of the sticky velcro to the bottom of the pee tube. The add a little velcro tie to this velcro. You can use the tie to secure it to your boot laces so it stays in more or less the right spot.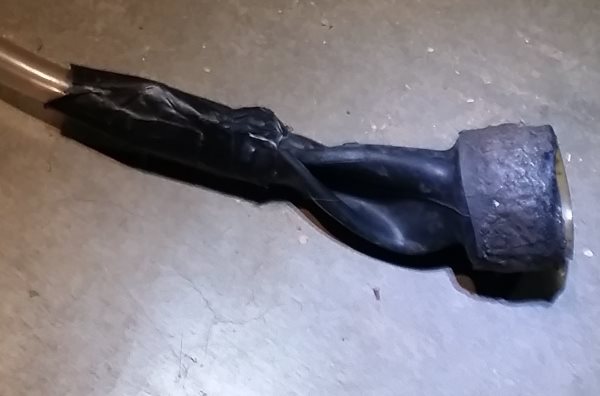 Usage
When ready to use pull it out and fold/roll back the inner tube onto the large pvc ring. Let it sit somewhere warm for a few minutes. This heats up the inner tube and pvc tube so that they are more flexible. It also warms any residual glue from previous uses so that it will re-adhere to skin.
When ready to fly apply a light strip of the Uro-Bond around the inner tube that will be touching your skin. If there is residue from previous uses you can use less glue.
Put your penis in the tube and slide the PVC tube as far up as it will go then carefully unroll the inner tube onto your skin. Try no to get any hair caught underneath. Squeeze the inner tube all around where there is glue so that it adheres well to your skin.
Tuck the pee tube portion into your underpants and all the way down your pants to your boots. Use the ziptie to secure it to your boot laces either on the inside or outside. Make sure to run the tube down the top or side of your leg so it doesn't get pinched when you are sitting down. If you have a preferred turn direction put the tube on that leg since you will likely be taking the opposite leg and crossing it over to help with weight shifts.
In flight when you have to pee just kick a leg outside of our pod and sit up a bit. It will feel really weird to go to the washroom like this but with a bit of concentration you'll get the flow going. Make sure there aren't gliders beneath you and keep your leg lowered so it drains out. Give it a good shake out before putting it back in the pod but don't be surprised if you get a bit of extra dribbling into the bottom of your pod. My preferred time to use it is at the top of a nice thermal since you don't have to worry about being aerodynamic like you would while on glide. Also the top of the thermal can be the gentlest place and the time you need to concentrate the least on your flying.
At the end of your flight carefully/slowly roll the inner tube off your skin and back onto the PVC ring. Once removed roll it back down so the glue doesn't pick up too much dirt and debris. You can give it a quick rinse with some water from your water supply and then just spin it around to get all the water out.
Roll it up for the next time you need it
Tips and Maintenance
You often see pilots use surgical tubing as piping for their catheters. This is not the best material since it is so flexible it will often kink and cause blockages leading to leaks. PVC tubing resists kinks.
Don't worry about putting it on too early before flying as it can make a convenient way to pee while still in all your gear and no one will even know (unless you make weird faces and sounds). Likewise when you land if there are no bushes around you can leave it on and just relieve yourself without exposing yourself.
I like to wear fairly tight boxer-briefs (regular briefs would work too) since the help suppor the weight of the catheter and keep it in place. Boxers allow it to move around too much and if you are walking around launch before flying it could mess up the glue seal and result in leakage during in-flight usage.
Don't get Uro-Bond IV (4), it is too runny and doesn't work as well for this application
Don't use too much glue, wipe most of of the glue off the brush and just put a strip around the tire enough that you can see it. Over time it will build up a residue which can be removed periodically. However a bit of this residue is good as it can help reform a seal on subsequent uses. I clean off the residue on mine about once a year.
Shave!
Although it can be difficult to start peeing in the air, once the flow is established it's best to try to throttle it a bit so it doesn't overflow. Watch the bottom of the catheter to see that the pee is coming out.
I clean mine out at the end of every season and remove all the old glue. I guess it depends on how much of a germ-a-phobe you are.