Gaggle Flying
Why Fly in a Gaggle
The gaggle works!!
Flying by yourself, you have less help if you lose the thermal and on glide. With more people you have more people sampling the air telling you what's happening
You aren't competiting against the task you are competiting against pilots flying the task. Flying with the gaggle minimizes potential point loss, flying by yourself is a higher risk proposition... potential for big win leaving others in the dust. In practice this doesn't happen and more likely it's a big loss. Competitions don't reward bigs wins and big losses but favor consistent competitors
What information do you get
Thermal core/Thermal shape, look where people are going up and adjust accordingly
Thermal heights, if you are leaving before everyone else chances are they know they can get significantly higher.
Can easily pimp people by letting your friend go first and follow them on glide, ideally a bit higher. From below it's much harder and you may be in a different layer of air that isn't as bouyant. Can even pick and choose lines as one starts to suck and another pilot looks like they are doing better.
Just general flying information, by flying with better pilots you will learn more than by flying by yourself and making the same old mistakes! Many pilots base a great flying career off gluing themselves to better pilots asses!! When you start performing consistently well and have a competitive wing then you can start leading the gaggle too.
Getting comfortable flying with friends and strangers!
We all want to fly with our buddies that we know and trust but xc flying doesn't always allow this, but that's ok most great XC pilots are safe people to fly with. Those that aren't quickly earn a name for themselves and you can learn to stay away from them (either let them pass in the thermal, or choose a different gaggle).
We can't make others fly the way we want but we can set an example of how we want others to fly with us in a gaggle. The number one thing is being predictable and showing intent... in other words don't surprise anyone.

Show intent by making eye contact with pilots, looking over shoulders during turns, crossing legs, etc.
It's quite easy to hear in a thermal so be vocal and be aware of blind spots, give a shout to someone if you don't think they see you
follow right of way rules, turn the direction of pilots in the thermal if that doesn't work turn the direction of people at your height or just above you. Sometimes I leave a thermal if the direction is too inconsistent. Sometimes a well place shout or message on the radio will encourage others to turn the right way. Different directions can happen due to pilots not paying attention or by pilots flying in different cores that merged!
Enter at tangents and gently work your way in rather than charging hard for the center of the thermal.
Don't fly right through a thermal that people are working on (Moocking someone), either enter nicely or fly around if you are on glide
Let pilots pass that are climbing faster. Widen your turns and either wave or shout at them to pass so they know what you are doing! It's polite and may help you climb better as you follow a pilot that has the thermal dialed in... learn from them.
Get used to flying close over time, comp guys fly pretty much tip to tip so that no one ever gets too far away and gets an advantage. Very intimidating for new pilots, you may want to find a nicer gaggle or just let them pass and follow them from underneath.
Don't get too aggressive in thermals: cutting in on people when the gaggle is staying wide enough to allow everyone in. There is a case for cutting in but it's usually when people are not taking a tight core and usually is just one or two other pilots not a big gaggle.
Think of other pilots as team mates working towards goal, it's sheer survival until you are in that last thermal looking at your glide ratio to goal then the race begins! Chances are that if you aren't in the lead gaggle coming in 10-30 seconds after another pilot won't make a big difference in your score. Often times getting a bit higher to mash the bar rather than squeaking in on min sink will get you there faster!
Choosing the right gaggle
If you are on a ENB wing and find yourself in a D+ gaggle you may be sunk from the start. The pilots will climb faster and glider farther so that in a thermal or two they will be gone. Try to become familiar with people of equal skill and wings and stick with them. Sometimes if there is only one comp pilot they will throttle back to let others fly with them as well. It's great to fly with the top guys but be aware you will be alone quickly, look behind for the next gaggle to catch up!
Entering a thermal
Come in on tangent lines so that even if you are matching an existing glider you can give him room on the inside and then slide in behind him. Many pilots like to enter like the diagram on the left which if timed wrong can throw off the pilot already there. Instead show intent and take an obvious tangent line like on the right. Pilots in the thermal are given time to spread out and give you the room you need to work in.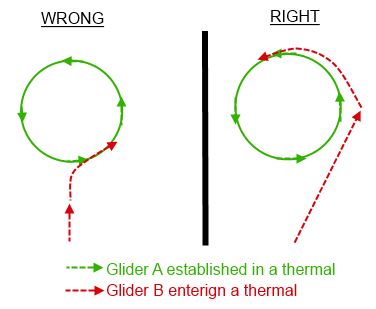 Work your way in smoothly
Turn the same direction as the gaggle
If coming in beneath a gaggle/pilot try to figure out the thermal trigger and imagine the thermal line from that source with respect to the wind and terrain. You know you are off center if you are downwind of a pilot higher and climbing, vice versa, you know you off center if you are further upwind from the a pilot climbing beneath you.
Avoid fixating on pilots whether you are in a thermal or entering one! Aim for the open air... it's a bit of a timing game. Sometimes pilots will ignore you in thermals and force you to move out of the way... other times pilots will let you in... generally this is because the pilot in the thermal feels they have to. In general the pilot in the thermal should not have do anything, they have the core and as an entering pilot I want to use that pilot flying the core to tell me where to fly... if I bump them out then we both get screwed.
Be aware that when entering underneath it happens that a thermal may be a bubble and you get nothing... much easier to enter above and circle above the climbing pilots and meet the rising air as the top man!
Flying the thermal
Be determined and greedy with the lift, the top guys stay on it all day. It's easy to get complacent and find yourself out of the lift.
Always be monitoring the entire gaggle to see who's going up and who's sinking, adjust each turn to stay in the lift.. Sometimes this means cutting off someone that left the lift.
Be visualizing the thermal all the time, I believe that the pilots with the best predictive models will fly the best. Practice developing yours and change/expand it when it doesn't work!
Relax and be aware, avoid stressing about collisions or collapses, this will wear you out! In reality getting collapses if you are properly centered in a core is extremely rare. If you do get a collapse or see someone else, that's just the air letting you know you are getting sloppy, you hit the edge and need to tighten up.
Searching in a thermal? When to look upwind for a better core. Don't be too aggressive with this each pass search a bit more if you think there is a better core. Best bet is to stay close to other pilots, falling out of a thermal can lose you a surprising amount of height compared to those that were more conservative. Best times to do this is before a race or when the thermal is crap... avoid doing this when scratching very low, best to stick with your buddies!
When to leave a gaggle (unsafe gaggles)!
Ratty thermal!
Different turn directions from everyone
Un-cooperative pilots
Aggressive pilots
Unskilled pilots
... basically anytime you feel it is dangerous. We grow in this sport by increments and for most pilots it takes years of flying to get comfortable in a gaggle, don't push too quickly!
Leaving a thermal
Depends on sooo many things:

next anticipated thermal i.e. do you have a long crossing
has the lift weakened or lost it entirely (maybe you just lost the thermal, is there anyone above you)
the time of day (is the day developing or weakening)
Have others left above or below you and by how much!
Is anyone marking the lift in front (if so mash the bar and get to them, great way to leap frog gaggles)

If you can try to leave by pushing upwind if it makes sense for the task, you may stumble across a bigger thermal or just a great lift line.
On glide spread out to cover as much area as possible to find the next thermal and to find the sweetest line.
When you see someone turn, wait a bit and verify they are going up, before moving to them (watch out for fakers!)
When you wait in a thermal after another pilot has left each turn is about 30 seconds behind that pilot... don't wait too long in light lift it's just not worth it!
when do you top out out vs leaving with gaggle... again depends (discussion?)
Should you leave a small gaggle to be with a bigger gaggle... depends on pilot quality, task line, and relative thermal strengths.
Common Mistakes made while gaggle flying
Always be moving to stronger climbs, if you are flying in multiple cores keep an eye on when one core strengthens and don't hesitate, use full bar to get there fast while there is still help! Of course you need to keep in mind how far away you are as well, the further away the less likely you should jump ship. Avoid leaving your thermal such that you end up beneath everyone else in the next gaggle, then you have no help.
Not turning tight enough. Keep your turn going. Let the gaggle guide the circle for a bit and just climb with the collective. When you are in a gaggle, it's not your time to try to modify the circle. If you have pilots consistently cutting the turn, behind you, it means you need to tighten the turn.

Nothing is more frustrating than a bad gaggle that isn't co-operating or isn't turning tight enough and keeps falling in and out.

Not keeping a constant attitude while banking up. When you tighten your turn, keep a constant nose attitude so you don't spiral down through the gaggle.
Be Polite. Remember that this is one of many climbs today. You don't need to 'win' this climb. Fly cooperatively and respectfully.
Don't try to stay out of the way, that almost always creates problems since now, you are not doing what they expect you to do. Try to be predictable and signal your intentions with body language.
Things to Practice
If you have a similar wing and skill level (able to thermal, handle turbulence...etc) with another pilot that consistently makes goal everytime and you don't... try just tailing them for a race or two to learn what they do and then ask about decision they made afterwards. This can be incredibly insightful but is difficult to give up your own judgement for a day.
On your own, practice switching turn directions on the fly and re-coring the thermal as quickly as you can.
Practice flying with all sorts of different people, always be adapting your thermal so it's tight with other people and trying to get the best core, they will do the same and you will dial it in!
Practice taking turns leading out with your friends from the gaggle to excercise your decision making. In real comps the top guys usually take turns leading out to make the most distance and the fastest times. No one likes a pilot that pimps ALL DAY, especially if they are on a better glider.
References